Mental Health and Insolvency
Elaine Wilkins from our Bournemouth Office is now a Mental Health First Aider
People's Mental Health and the affect upon it by the myriad problems caused by Covid-19 lockdowns has been heavily reported over the past 12 months or so. This applies as much to businesses as it does at home, and as insolvency practitioners, we have seen the stress and strain that business difficulties can cause company directors and their staff. Elaine Wilkins from our Bournemouth Office decided to do something about it and is now a trained Mental Health First Aider. In this article, Elaine tells us a bit more about what a Mental Health First Aider is and how she can help.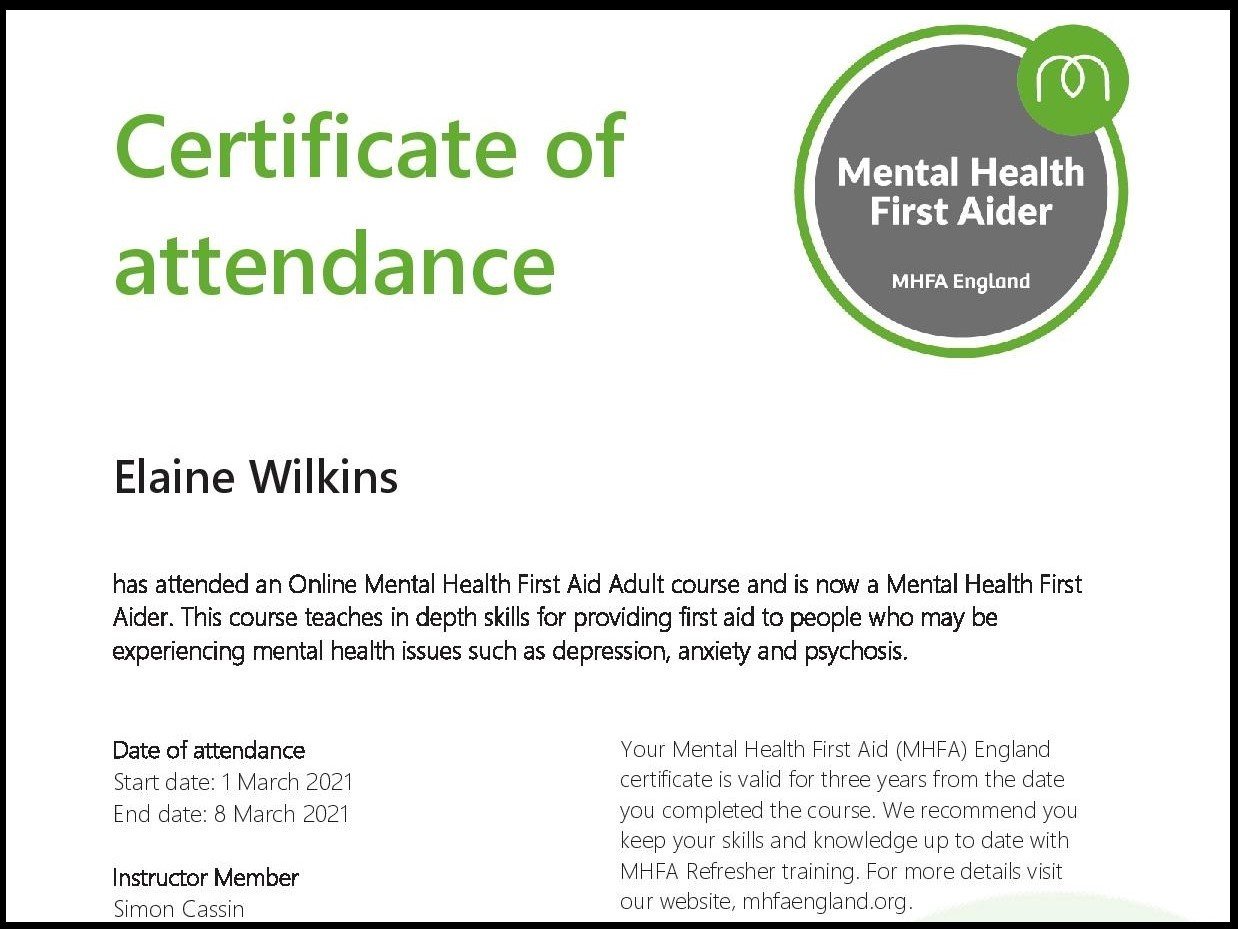 People with financial difficulties are more likely to suffer with Mental Health problems
It is well known that financial difficulties, whether for individuals or within businesses, can lead to real mental health problems, including depression and anxiety. In a report, the Money and Mental Health Policy Institute found that 18% of people with mental health problems may also suffer with debt issues and that 46% of people in problem debt also have a mental health problem. The report suggested that c.1.5 million people struggle with Mental Health issues and problem debt at the same time and that the situation can be made worse if they are treated insensitively by creditors.
Elaine joined Dorset Chamber's GU6 initiative as a Mental Health Champion
"Having worked with the Dorset Chamber for over 20 years, I was delighted to join their GU6 Business Leader Resilience Scheme  . GU6, or Got Your 6, is a phrase used during the Battle of Britain, which means 'Got Your Back'. It's an initiative developed by Dorset Chamber to help build resilience, raise awareness and provide confidential support to business leaders who may be finding it all too much, especially now in the midst of the Covid-19 pandemic."
"Working for Antony Batty & Company, an Insolvency Practitioner and business turnaround specialist, we do come across many business owners and directors who are deeply anxious and distressed with their financial situation, especially now when many businesses have been plunged into difficulties through no fault of their own. That's where GU6 comes in."
All GU6 Champions receive training to become Mental Health First Aiders
"Over a period of time, I received my online Mental Health First Aid training, which amongst other things, trained us to recognise the signs of depression and anxiety and what steps to take to help those with difficulties, especially when it becomes obvious that a simple reassuring chat and some kind words isn't enough."
"Having completed the training, I am now a Mental Health First Aider, and I will be using my new skills in this area to help any of the individuals and businesses who approach us when their finances are in real difficulties and they realise they need help."
The sooner our help and advice is sought when insolvency looms, the better
"The stories of sleepless nights, growing anxiety and deepening depression are all too true for those individuals and business owners who are facing problem debt and, ultimately, insolvency. Sometimes our advice is sought too late, and the only way out is a liquidation. Even then, we can help lessen stress and strain by taking over the work of dealing with creditors. If contacted quickly, the chances of turnaround and recovery are much improved, perhaps via an Administration or a Company Voluntary Arrangement, where once again, we take the strain."
If you or your company is facing insolvency due to problem debt, HMRC arrears, cashflow or other financial problems and you are stressed and anxious about what to do, then please do contact us for a fully confidential, and FREE initial discussion at our Bournemouth office.
At the meeting, our highly qualified specialists will provide you with independent, professional assistance/guidance and go over all the possible options, to help take the stress and strain away.
You can contact Elaine at elaine@antonybatty.com  or via private message via LinkedIn