Licensed Insolvency Practitioners Celebrate 20th Birthday
Celebrating our 20th Anniversary
In mid-May 2017 we celebrated our 20th Anniversary as Licensed Insolvency Practitioners, and we did it in style, with a gala dinner on board the cruise ship P&O Britannia, somewhere between Southampton & Zeebrugge. We thought it would be fun to take a brief back over the last 20 years.
Back in 1997, it Was Just Antony and Hugh
Having decided to set up the firm in what he calls a 'moment of madness' in 1997, Antony Batty was extremely flattered that Hugh Jesseman agreed to give up his successful career at Ernst & Young, to work with him at Antony Batty & Company (or ABc for short). Antony initially traded as a sole practitioner, and the two of them remained the only employees of the Firm for the first three years. Since that time they have both seen many changes, the most significant being that they are now joined by over 15 partners and colleagues in a firm which has acted on approaching 2,000 insolvency cases.
Our first case was the Liquidation of Davzest Limited, to which Antony was appointed on 5 June 1997. 20 years later, on 5 June 2017, Antony was appointed as Joint Administrator of Rocket Plumbing Limited, the Firms 1,777th case. Of equal significance on 2 June 2017 and to Antony's great pleasure, Hugh was appointed to his 140th insolvency case.
New Insolvency Practitioners Arrived, Over Time, as we Grew
Stephen Evans joined the Firm as a Partner, at which time Antony felt that he could go on holiday without worrying about the business and hasn't looked back since! Hugh qualified as a Licensed Insolvency Practitioner in 2004 and was made a Partner in 2011. Tom Gardiner, a Licence holder, joined the Firm in 2015 to head up the Essex office in Brentwood, bringing us up to 4 licensed insolvency practitioners.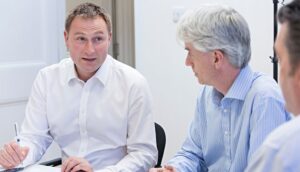 As our staff numbers have grown we've moved premises 3 times. We started from an office in Welbeck Street, then shared offices at 30 City Road before moving to Hatton Garden and finally moving to our current office at 3 Field Court, Gray's Inn in 2005. We also have 2 satellite offices in Salisbury and the Cotswolds, meaning our footprint is well and truly beyond London now.
There Have Been Happy Times, and Some Sad Ones
More than anything else a company is about its people. They deliver the results our clients need and we've shared some happy and some sad times together. Over the last twenty years we have enjoyed and celebrated a number of staff weddings including Antony's and many births too. We have also, very sadly, mourned two deaths: David Pallen who was a consultant to the Firm and Michelle Barthel, our third employee, who passed away at a very young age in 2016 after a tough battle with cancer. We remember them both with fondness and sadness in equal measure.
Insolvency Presents Many Challenges, and We've Had Plenty of Highlights
We've dealt with too many interesting assignments over the years to list, however particular highlights were: the Administrations of the international retail brands, Dachamps and Missoni London; dealing with a number of travel companies including Diamond Shortbreak Holidays; the first debt for equity swap Company Voluntary Arrangement of Orchard Furniture PLC, a process the Firm pioneered and more recently winding up VCT's for Downing and Triplepoint.
One of the more challenging things in recent years has been the introduction of the New Insolvency Rules in 2017. It is true to say that the regulation and rules surrounding insolvency work is forever increasing and changing, perhaps rightly so, as the industry evolves to meet new challenges. Currently these changes seem to be happening on an almost weekly basis. Click here and here to read a couple of our articles about them. They certainly keep you on your toes.
Here's to the Next 20 Years
So now we look forward to the next 20 years. The life of licensed insolvency practitioners is exciting and ever changing, and whatever happens, we will always be here for businesses and individuals for when it isn't business as usual. So if that's the case with you right now, contact us or call us on 0208 088 0633. As always, the initial consultation is free.