HMRC Aggressively Chasing Payment of APNs
HM Revenue & Customs Knocking on Doors for Accelerated Payment Notices
Our Insolvency Practitioners have been keeping a very close eye on HM Revenue & Customs in the on-going battle that is developing over companies with Employee Benefit Trusts (EBT) and HMRC's use of Accelerated Payment Notices (APN) to secure payment of the tax and NI owed. Recently we have become aware of HMRC upping the pressure on APN non-payers. In this article we look at the letters that HMRC is sending out and what the potential outcomes could be.
Letters are Being Sent Out to APN Non-Payers Followed by Debt Collectors Knocking on Doors – the start of Enforcement
In January 2018, we reported on how HMRC was aggressively collecting tax on companies with EBTs and that Advanced Payment Notices had significantly increased their powers in this regard. It is believed that c.80,000 APN letters were sent out, with the concern that such payments could lead to a surge in insolvencies.
Recently we have become aware of several companies who have received letters from HM Revenue & Customs' Accelerated Payment Notices Team advising that if payment of outstanding APNs is not made, they will start enforcement proceedings within 'the next few days.'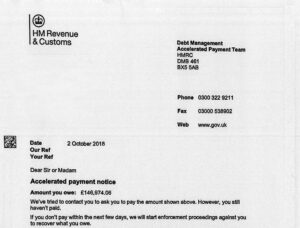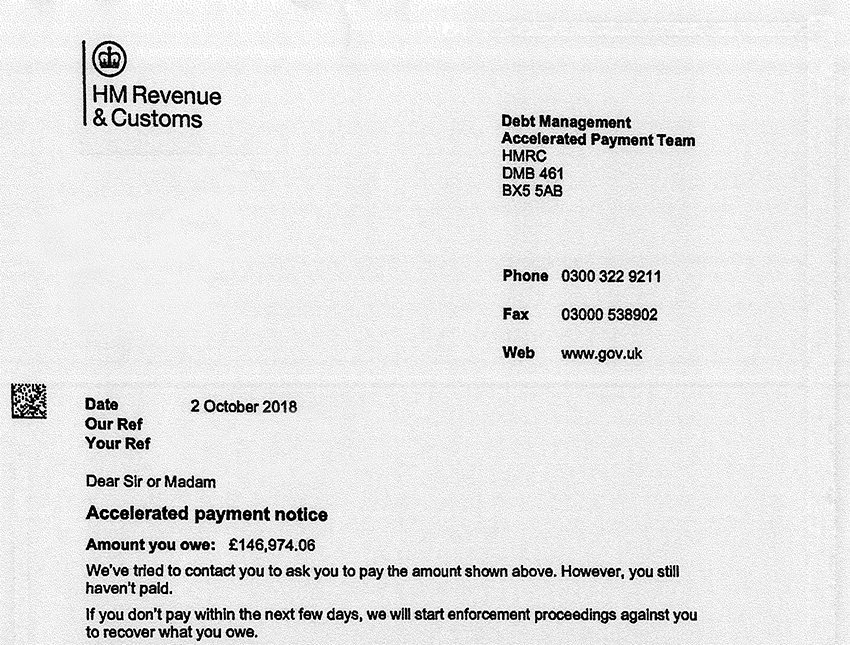 They go on to point out that they have the following powers if payment is not received:
County Court Proceedings
Taking Control of a Company's Goods. This means that an 'authorised officer' can arrange for a company's possessions to be removed and sold at public auction as means of repaying some or all of the outstanding debt.
Insolvency Action. In this case, a Winding-Up Application may be made against the company for the debt
It seems that the first step from HMRC in this process has actually been to send teams of debt collectors around the country knocking on doors asking for payment. Clearly if nothing is received there and then, or a few days after, Court proceedings will follow.
HMRC is Serious and Liability Could Jump to Individuals
Clearly, HMRC, is deadly serious in its intent and actions to recover money owed to it as a result of Companies taking out Employee Benefit Trusts. Indeed, as we reported in May 2018, the April 2019 Loan Charge could see the tax liability of an EBT jump from the Company to Individual Directors.
What to do if You Cannot Pay Money Due Under an EBT? Our Insolvency Practitioners can Help
The EBT/APN battle could easily end up with '000s of companies becoming insolvent as a result of HMRC's demands If you are a company – or have a client – with an EBT, and cannot pay an accelerated payment notice, although our insolvency practitioners cannot advise on the merits of paying APNs, we can advise companies who are struggling to pay the tax owed. Contact us or call us on 0208 088 0633 for a FREE initial consultation.
Need Help with
Insolvency, Recovery or Turnaround?
If you or your business is facing insolvency, the sooner you contact us, the more we can help.