Company Voluntary Arrangements and Insolvent Restaurants
Still or Sparkling? What's Going on in the Mid-Market Restaurant Scene and Where did it all go Wrong?
So far this year there have been a number of high profile insolvencies in the mid-market restaurant market, notably Jamie's Italian, Byron Hamburgers Limited and Prezzo. Currently these three are using Company Voluntary Arrangements to restructure and continue trading in some shape or form.
In this article, one of our Insolvency Practitioners, Tom Gardiner, notes how quickly things have changes, gives his views on why this is happening and finishes by explaining why Company Voluntary Arrangements are a popular vehicle to help allow restructuring to take place.
Tom has Worked In and Run Restaurants and Bars, as Well as Acting as an Insolvency Practitioner in the Sector
"When I was fresh out of university, and some years before becoming or even thinking about becoming an insolvency practitioner (initially in London, and now at our Brentwood, Essex office), I spent the best part of my 20s working in, and then running, restaurants and bars. I've seen first-hand how they operate and I'm sad to say that now I'm in my 40s, I have now traded and/or closed down numerous catering establishment and restaurants, either as an appointment taking insolvency practitioner or working for one.
We are all aware, no doubt, of financially troubled chains such as Byron and Jamie's Italian, desperately restructuring and closing sites in order to stay afloat, with the help and advice of insolvency practitioners and other professionals. It's not just London, either, it's everywhere, and some commentators are predicting that the UK's casual dining bubble has finally burst. It wasn't always like this, of course."
Up to 2016, the Mid-Market Casual Dining Sector Boomed
"In the years between 2010 and 2016, it appeared that our desire to spend money on casual, affordable dining was insatiable. Never mind the property and fit-out costs, the high margins and turnover that a successful establishment could generate was able to repay any debt and provide a healthy return on investment. And this was true of many chains.
Indeed, a 2016 YouGov poll, commissioned by the shopping centre management company Intu, rated eating out as Britain's favourite leisure activity. It all happened very quickly, and although whole streets and areas of towns, especially those featuring new leisure developments, became saturated with similar mid-market food offerings, the mantra was:
….if you build it they will come… 
…. until they don't."
Now We Are Seeing the Casual Dining Crunch
"In recent months customers have stopped coming in such numbers, leading to the so-called "casual dining crunch" and talk of a perfect storm in the sector. It's not only Jamie's Italian, currently in a Company Voluntary Arrangement and looking to close 12 branches. Byron is in a financial rescue plan, the Italian chain Strada recently shut a third of its restaurants and its rival Prezzo is now looking at restructuring, again through a CVA.
Unsurprisingly, in 2017, the government's Insolvency Service reported a 20% rise in restaurant failures, with nearly 1,000 insolvencies in the sector, with no sign of any slowing in 2018. Numerous venues, from the five-strong Square Pie group in London to, again, Jamie Oliver's Piccadilly barbecue restaurant, Barbecoa, have gone into administration."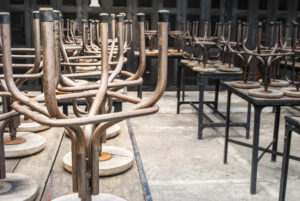 What Went Wrong? Market Saturation was Matched by Increased Costs
"With the likes of Byron expanded rapidly, Pizza Express kept adding, as did Nando's, Zizzi and many more. It was almost like an unsustainable rise in the Stock Market.  There was huge growth in the casual dining market and there were just too many restaurants: something had to give.
It started to 'give' in 2016 when, simultaneously, food costs, staff costs, rents and business rates all started to go up. This meant that profit margins were being squeezed and squeezed again, and those chains that had expanded rapidly, often on the back of debt and loans, suddenly found life very difficult. In addition, times are tough for many consumers, with real wages static of falling and inflation rising. Even if they spend a little more when they do, people are eating out less.
In other words, there are greater costs, more competition and  fewer people spending. This alll impacts on the bottom line; quickly."
Was it the Speed of the Growth That is to Blame?
"Had the restaurant industry been expanding cautiously and financing itself from existing turnover, this current situation would have been tough, as over supply and intense competition inevitably causes business failures.  However the rapid growth of the sector in the years up to 2016 was largely fuelled by the easy availability of cheap debt, so that when harder times arrived, so did the perfect storm.
In a challenging market, pressure on profit margins can easily lead to large chains, no matter how they are funded, having to compromise on the food quality and service levels that once made them stand out. When the market is sluggish and a restaurant chain's headline sales growth slows down, that chain will attempt to protect its profitability by cutting costs, from ingredients to staffing levels. It can quickly become a spiral of decline as quality falls and customers don't return.
This sense that large chains are constantly (cynically?) whittling away at their costs fuels huge resentment amongst consumers, as for example the revelation that Jamie's Italian was using the same meat supplier – the now-collapsed Russell Hume – as the pub chain Wetherspoons.
Yes, last year's business rates reassessment hit many restaurants hard (according to analysis by Colliers International, the Jamie Oliver Restaurant Group's rates went up 28%, or £1.6m). However, there could be a far simpler reason why they, and others are struggling. The saturation of the market and rising costs – followed by cost cutting – has meant that many chains are no longer seen as distinctive or offering value for money. Given that eating out is a discretionary spend, consumers are exercising this to the detriment of the poorer or indistinct offerings."
What is the Solution? Company Voluntary Arrangements are Often Used
This has all the hallmarks of a major market correction. The survivors will come out of things stronger, and new entrants will arrive, in time, more cautiously funded perhaps. In the meantime, there will be pain for many, with more outlet closures and job losses.
Several of the chains are looking to restructure through the use of a company voluntary arrangement, as a means of safeguarding their long-term future. Typically, a Company Voluntary Arrangement, if approved, as part of a strategic review, will enable the directors to negotiate a financial restructuring with the company's lenders, landlords and stakeholders, which will help new investment to come into the business. A particular focus of several of the Company Voluntary Arrangements in operation now is to tackle the cost of the various companies' leasehold obligations across their outlets.
A CVA, is used to help an insolvent company continue to trade, so long as there is a good prospect of a return to profitable trading. It is a contract between a company and its creditors that is legally binding on all concerned. If approached in a proper manner it can give an insolvent business breathing space to recover its financial footing. A CVA offers a very flexible approach to an insolvent situation and, therefore, can be tailor made to the company's needs. Click here to see our guide to Company Voluntary Arrangements.
Click on these links to see our guide to CVAs and some FAQs.
Contact us for Help and Advice With Company Voluntary Arrangements
At Antony Batty & Company, we have run more than 50 successful Company Voluntary Arrangements, not just in our core areas of London, Essex, Salisbury and the Cotswolds, but across the country. Click here to see some testimonials from our clients. Contact our insolvency practitioners or call us on 0208 088 0633 for a FREE initial chat about how we could help your business via a Company Voluntary Arrangement.