What's Insolvency got to do with It's a Knockout? Team Building, of course! And raising funds for charity
Some of the Antony Batty Thames Valley team enjoyed a fun team building 'It's a Knockout' event in June, and also an Escape Room/Treasure Hunt in Oxford, both with valued referrers.
Team Building events are always great fun, with the added bonus of getting the team out of the office and all things insolvency for a few hours and encouraging them to find ways of working better together to help deliver the best possible outcomes for our clients and the creditors we represent. This is especially so as we at Antony Batty Thames Valley complete our second year of trading and continue to build strong relationships with referrers locally and regionally. So, a bit more light-hearted than usual, here's how we got on when challenged to participate with two of our referrers in separate events.
It's a Knockout
Five of our growing insolvency team (Lawrence King, Bethan Bryant, Andy Lloyd, Lucy Green and Brooke Walters) took part in an "It's a Knockout" fundraising event for a local charity Seesaw – who provide grief support for children and young people in Oxfordshire.
The challenge was laid down to us by our good friends at Cypher Accountancy and we were delighted to accept the challenge.
The day proved to be demanding. challenging but great fun! There were four stages: driving range, assault course, raft building and kayaking/paddle boarding – as shown below.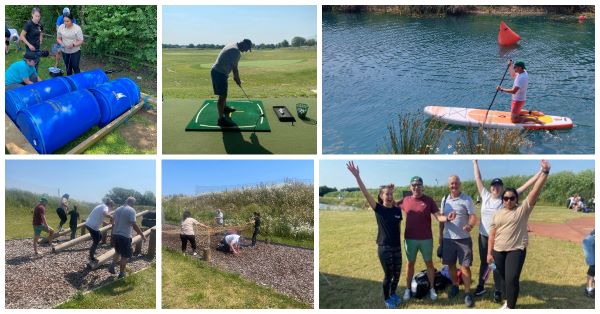 Bethan Bryant reports on how the team got on
 "Our raft, although it looked good and we worked very well together to build it, sadly fell apart as soon as it hit the water!
The assault course was by far the most difficult part of the day, and we only completed it with great teamwork and a great deal of effort. Some of us (Andy and Lawrence) literally had to carry the others over a few of the obstacles!
We came last but were commended for our team effort. It was a great day out raising money for an amazing cause."
We joined Ridgefield Consulting to take part in an immersive outdoor adventure on the streets of Oxford, called "Clue the Looking Glass."
It was part Escape Room and part Treasure Hunt where we had to find intriguing puzzles at secret locations all around the city. The aim was then to solve each puzzle to ultimately solve a mystery, with teamwork and deduction skills being at a premium.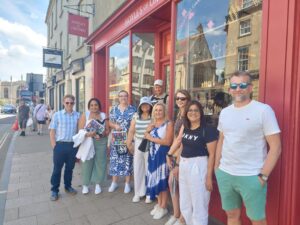 As you can see from the picture, we had an enjoyable day out and it was lovely to meet and mingle with some of the team from Ridgefield.