Quite a Freezing Experience!
We were very happy to sponsor Lizzie Bluff, a friend of the firm, in her 'Sleep Out at Guildhall Yard' to help raise funds for Charities supporting the homeless in London.
On 31st March 2022, Lizzie took part in the 'Sleep Out at Guildhall Yard' in the City of London, organised by the Lady Mayoress, as part of The Lord Mayor's Appeal. After basking in an early Spring heatwave, Lizzie, along with almost 100 others slept out, in what proved to be a bitterly cold night, to help raise awareness of homelessness in London and funds for the Spitalfields Crypt Trust.
Lizzie's story of the Sleep Out
"I am very grateful to Antony Batty & Co for sponsoring me so generously for my Sleep Out on 31st March, for the Homeless and other Charities connected with the Lord Mayor's Appeal. The idea was in fact an initiative of his wife, The Lady Mayoress, Amanda Keaveny, who has for many years been a champion and volunteer for the Homeless. Her years as a Nursing Sister in A&E give her unrivalled skills in dealing with the nitty gritty of life and getting down to helping people with the basics. Without her none of this would have happened.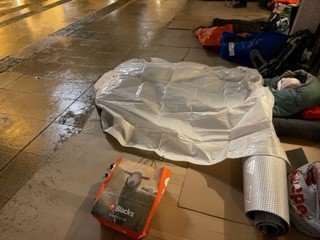 Since my Sleep Out last week, in what literally was below freezing temperatures, plus rain and sleet, many people, including my sponsors, have been congratulating me. Truly it is not me who needs to be commended and thanked but the people and companies who pledged money to support me in this endeavour.  I wanted to do this.  For too many years I have stepped over these poor people sleeping rough on the street and this was a chance for me to step up for once. One night was easy, imagine doing this night after night…… .
Ten per cent of what I raised last week went directly to Spitalfields Crypt Trust which supports recovery from addiction and homelessness in East London. The Lord Mayor's Appeal does so much good, and their charity partners for 2022 include: The Samaritans, National Numeracy, The Duke of Edinburgh's Awards, Place2Be and OnSide Youth Zones. UK Fundraising reports that the Appeal raised over £500,000 each for 3 of its then partners in 2018/2019 so it's easy to see what an important fund raising body the Appeal is.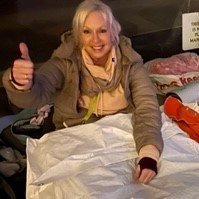 Click on the links to find out more and donate if you wish:
Once again many thanks to Antony Batty & Co. Their generous contribution was much appreciated. It was a humbling experience and I am very glad I participated. I've raised a respectable sum and that's partly down to you. I am still fundraising until our April 13th deadline, when I submit the funds – all gift aided which is great." 
Well done to Lizzie and everyone who took part from all of us here at Antony Batty & Co. You did a great job.