The Potential Misuse of CBILs/CLBILs/BBLs – an Insolvency Practitioners Perspective
Freezing orders, Winding up Petitions, Director Disqualification and Criminal Proceedings can all be the result of misuse. But what if you genuinely cannot repay?
Much has been written about improper applications or the misuse of funds received from the various Government backed schemes introduced during the Covid 19 pandemic to support businesses, but how much of a problem is there? Our Insolvency Practitioners also look at what businesses should do if they find themselves unable to make repayments, especially in the current difficult financial climate.
Government loans were crucial in supporting businesses, but the loans must be repaid
Since the introduction in March 2020 of CBILS (Coronavirus Business Interruption Loan Scheme), CLBILS (Coronavirus Large Business Interruption Loan Scheme) and BBLs (Bounce Back Loans) over £38 Billion of loans/finance packages were loaned up to the point at which they were withdrawn in March 2021. They were then replaced by the Recovery Loan Scheme which is due to be withdrawn on 30 June 2022. They provided vital funds which undoubtedly assisted many businesses at a time when the economy really suffered.
The problem remains that these are loans that need to be repaid, and although the Government has guaranteed 80% of the funds loaned, there have been indications that if the lender has not employed systems to identify improper applications of such funds, the Government guarantee could be taken away.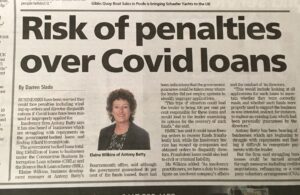 As Stephen Evans, an Insolvency Practitioner and one of our consultants says:
"This type of situation could lead the lender to being 100% responsible for these loans and would lead to the lender examining its options for the recovery of such funds."
What action can be taken for the improper use of Covid loans?
HMRC have indicated that they would consider taking action to recover such funds by using strong measures including freezing orders to recover funds fraudulently lent. At the same time, the Insolvency Service have wound up Companies and obtained director disqualification orders for up to 15 years against directors who were responsible for such applications. There is also the real possibility of fraudulent applications leading to Civil or Criminal liability. The problem is therefore very real.
What is the perspective of our Insolvency Practitioners?
Stephen Evans comments:
"As Insolvency Practitioners, we have a duty to investigate an insolvent Company's affairs and the conduct of its directors. This would include looking at all applications for such loans to ascertain whether they were correctly made, and whether such funds were properly used to support the business as was intended, and not (for instance) to replace an existing loan which had been personally guaranteed by the directors.
The team at Antony Batty is conversant with what the relevant criteria are when considering if an application was made properly or not, and whether such funds were used as intended.
What if the loan cannot be repaid?
Many businesses were only able to get through the pandemic due to the support package provided by the Government. However, long term recovery also needed economic growth, which has now been pinched off by the current inflationary pressures and supply chain problems the country is experiencing.
Anecdotally, we are hearing of businesses that whilst initially being able to make their monthly Covid loan repayments, are now beginning to struggle with loan repayments, with some contacting their banks/loan providers to see if the repayments can be renegotiated. However, it seems that this is proving difficult to accomplish.
What can a business do if it cannot repay its Covid loans?
Just because a business is currently unable to repay its Covid loans, especially if caused by the current economic shocks it does not mean that all hope is lost. There are several ways of turning around a business in financial distress, and avoiding liquidation, including creditor negotiations, refinancing, or a complete restructure using a Company Voluntary Arrangement, for example.
The Government security on the Covid loan will only take effect should your company enter a formal liquidation process, such as a Creditors Voluntary Liquidation (providing the loan was taken out and used legitimately), so if you want your business to continue through the current turbulence, then the loans and their repayments must be dealt with.
In our experience, if you are worried about your business's finances, the sooner you seek professional help, the better. Early intervention is vital to survival, especially right now. The consequences of not acting could rapidly lead to formal insolvency and liquidation.
Contact our Insolvency Practitioners for help and advice
If you have concerns regarding any of these issues, please contact our expert team of Insolvency Practitioners and administrators on the numbers below and we can arrange a free consultation without obligation.
Also, K&W Recovery, trading as Antony Batty and Company, Thames Valley: