Successful Members Voluntary Liquidation for Marine123
"What I had expected to be complicated for me, was in fact all handled by the Members Voluntary Liquidation team at Antony Batty & Company, London."
On 4th March 2020, Stephen Evans, one of the Insolvency Practitioners at Antony Batty and Company, was appointed as the liquidator of marine propulsion companies Marine123 and Marine456 Limited, supported by Sharan Acharya. This was a solvent liquidation, using the Members Voluntary Liquidation (MVL) process, and was required because the director wanted to retire and realise the value in his company.
It proved to be a well-executed and organised MVL, with the winding -up being completed in less than 11 months. The liquidation delivered a cash distribution to the sole shareholder of both Companies. Click here to see the MVL procedure.
This is what our client had to say
"I was recommended to choose Antony Batty & Co by my firm of Accountants, when I wanted to retire and close my two small engineering companies. I attended a meeting at their Gray's Inn offices, where I met with Stephen Evans & Sharan Acharya and a MVL was arranged for both companies.
The MVL was fully explained to me and they led me through the process. What I had expected to be complicated for me, was in fact all handled by them, with Sharan always at hand to answer any questions along the way. I was really pleased with how smoothly the liquidation went and how they were pro-active in hastening HMRC, where necessary, to bring it to a prompt and satisfactory conclusion."
(Glen Andrew Print, Director)
Looking to close your Company? Act now and talk to us about Business Asset Disposal Relief before the 3rd March 2021 Budget!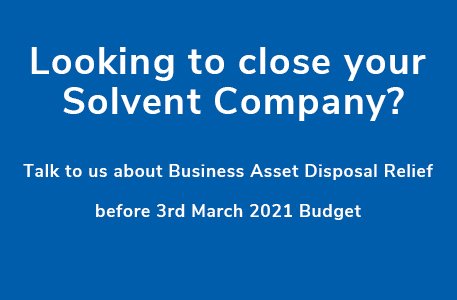 When business owners decide to sell or wind-up their solvent company using a Members Voluntary Liquidation (MVL), they might be eligible for Business Asset Disposal Relief (formerly known as Entrepreneurs' Relief). This has been an attractive and popular method of reducing the amount of Capital Gains Tax that must be paid on the sale of a company and/or its assets, from the standard rate to a 10% rate. It can save business owners many £000s.
In recent budgets, there has been speculation that the Chancellor will scrap the relief. This has not happened yet, but the relief has been reduced and it is considered that further restrictions will be applied in the coming 3rd March 2021 budget.
So, if you are considering closing your solvent business then now is a good time to get things moving if you are eligible for BADR.
Contact us if Considering a Members Voluntary Liquidation for your Business
Our Members Voluntary Liquidation Specialists work with clients across the country, delivering what we call 'Big 4' levels of service at competitive cost. We have offices in:
Click here to see some of our other testimonials for MVLs.
If you are considering a solvent liquidation for your company, please contact us at any of the above offices for a FREE initial discussion.