Helping in the Community – We were delighted to help provide football kit for the Harrow Stones Stars
"From the team and me, we would like to extend a huge thank you for your donation and support."
At Antony Batty and Company, we like to do our bit to help in the community, so when one of our team, Insolvency Administrator Tom O'Keeffe from our London office, was approached by childhood friend, Sean Derbyshire, the head coach of PAN disability football team Harrow Stones Stars about the possibility of helping them buy new football kit for the coming season, we were happy to help.
Head coach Sean Derbyshire takes up the story from his original email
 "I am the Head Coach for a PAN Disability team based in Harrow called Harrow Stones Stars. We as a team have been formed for 10 years. The team has been affiliated and run by a charity organisation called Community ConneX, which helps people to live healthier, happier, and more independent lives. They do this by supporting individuals and families in their daily lives, providing them with opportunities to engage with others, make their voices heard, develop new skills and grow.
Community ConneX's clientele includes but is not limited to people who experience social isolation, older people, people with learning disabilities, autistic people, individuals with mental health problems and others. Their core services offer clients a range of support from childhood to advanced age.
I have been the Head Coach for 3 years now, working alongside two other great coaches Kelli and Adaobe. We have a team of 12 players aged 18 and above who attend weekly training sessions and participate once a month in the 'friendly' Middlesex County league. I was previously a team manager within Community ConneX but now help run the team voluntarily.
I am looking to raise funds for the team to help support with new kit costs and payment of the facilities that we use weekly. Due to the cost-of-living crisis and other factors it is proving quite challenging for our players to continue paying our weekly attendance subs and paying for kit and new boots. We currently have limited sports equipment.
The team are currently using old kits that were kindly donated by Wealdstone football club. These are now outdated, and the team are looking to purchase their own designed kit along with training jackets.
The team is a great bunch of men and women and we really do have lots of fun. The team live for football and support a range of clubs from Watford to the best team Chelsea. I am asking to see whether you would be interested in helping us in any capacity."
As the picture shows, we were happy to help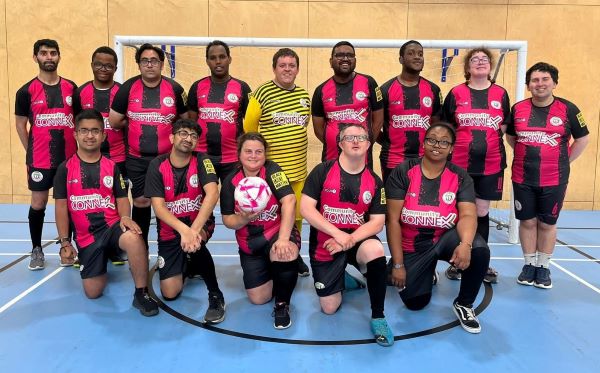 Sean continues: "The new kit will debut in September in our first fixtures of the new season. 
From the team and me, we would like to extend a huge thank you for your donation and support. This has been able to allow the team to have their very first independent home kit. We were able to purchase 22 Kits and Jumpers with the financial support you helped us with and our other donations. 
The challenge now is trying to get them not to wear it every day. A huge thank you once again."
Good luck for the new season Sean and the Harrow Stones Stars team from all of us at Antony Batty & Company.