Antony Batty & Company Celebrates its 25th Birthday
Insolvency Practitioner and turnaround specialist Antony Batty looks back on the past 25 years.
In mid-May 2022 we celebrate our 25th Anniversary as Licensed Insolvency Practitioners, during which time we have grown from one office to 5 offices with five appointment taking Licensed Insolvency Practitioners and over 40 employees. In this article, we interview the founder and senior partner, Antony Batty, and ask him a few questions about the last 25 years, before looking back at some highlights.
What made you decide to set up your own company 25 years ago?
"I always had an ambition to run my own business, but I never dreamt it would be an Insolvency Practice! After 13 years working for two Top 4 accountancy practices, I decided to give it a try with the help of Hugh Jesseman. Being a Charted Accountant has been a great help, and I would highly recommend getting a qualification to any budding entrepreneur!"
Who has been your business inspiration?
"I have tried to learn a little from a lot of people, so no one person stands out as being an inspiration, as history and circumstances differ for everyone. I do believe, however, that it is important to identify and seize any opportunities when you are lucky enough to come across them!"  
What is your business ethos?
"Having run my own business for 25 years, I understand the emotional and financial roller coaster that business owners ride on, which of course includes highs and lows. I hope that my own experiences make me more empathetic towards directors and owners of businesses who are facing business related difficulties, often through no fault of their own, for example, Brexit, the Pandemic and now inflation and supply chain problems."
What have you learnt along the way?
"Lots of things, but, above all, it is important to remember that businesses are comprised of people and dealing with and managing the relationships between the people in a business and with your clients is vital to success.
What advice would you give to anyone looking to set up their own business today?
"Don't do it! Seriously, however, if you have a burning desire to run your own business, have a go as soon as you can, the longer you leave it, the more you will take on commitments such as mortgages, partners & children which make the risk much greater. Sir Richard Branson started his business at school and could therefore take huge risks. As a nation we need to encourage enterprise and make the penalties for failure lighter, whilst prosecuting those who seek to take advantage of the law."
What would you like to think of as your legacy?
"I am not so grand as to think I will leave a legacy; however, I hope people have enjoyed working with me and that I have helped clients navigate some of the most testing and stressful periods of their lives."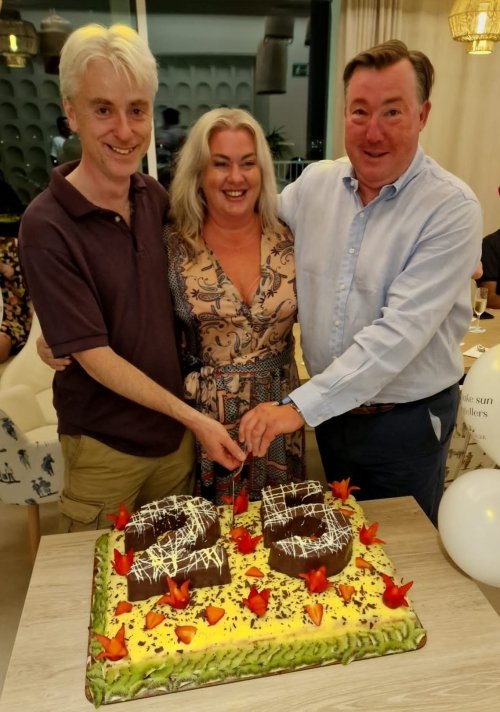 Back in 1997, it was just Antony and Hugh
Having decided to set up the firm in what he calls a 'moment of madness' in 1997, Antony Batty was flattered that Hugh Jesseman agreed to give up his successful career at Ernst & Young, to work with him at Antony Batty & Company ('ABc'). Antony initially traded as a sole practitioner, and the two of them remained the only employees of the Firm for the first three years. Since that time, they have both seen many changes, the most significant being that they are now joined by over 40 team members in a firm which has been appointed to over 2,500 insolvency cases.
Our first case was the Liquidation of Davzest Limited, to which Antony was appointed on 5 June 1997. 20 years later, on 5 June 2017, Antony was appointed as Joint Administrator of Rocket Plumbing Limited, the Firms 1,777th case. The 2,500th case arrived in 2021.
New Insolvency Practitioners Arrived, Over Time, as we Grew
Stephen Evans (now a consultant with the firm) joined us as a Partner in 2007, at which time Antony finally felt that he could go on holiday, occasionally, without worrying about the business! Hugh qualified as a Licensed Insolvency Practitioner in 2004 and was made a Partner in 2011. Lawrence King and Matt Waghorn are both partners and Licensed Insolvency Practitioners at our Antony Batty Thames Valley sister company (2021), with Claire Howell arriving as our most recent partner and Licensed Insolvency Practitioner in 2021. A big thank you to them and each and every one of our team, past and current, for helping make ABc what it is today.
As our staff numbers in London have grown, we've moved premises 4 times. We started from an office in Welbeck Street, then shared offices at 30 City Road before moving to Hatton Garden and finally moving to our current office at 3 Field Court, Gray's Inn in 2005. We now have 6 other offices: Brentwood, Bournemouth, Salisbury and the Cotswolds as well as Antony Batty Thames Valley (Abingdon and Reading), meaning our footprint is well and truly across the South of England now.
There Have Been Happy Times, and Some Sad Ones
More than anything else a company is about its people. They deliver the results our clients need and we've shared many happy and some sad times together. Over the last twenty-five years we have enjoyed and celebrated several staff weddings, including Antony's, and many births too. We have also, very sadly, mourned two deaths: David Pallen who was a consultant to the Firm and Michelle Barthel, our third employee, who passed away at a very young age in 2016 after a tough battle with cancer. We remember them both with fondness and sadness in equal measure.
Insolvency Presents Many Challenges, and We've Had Plenty of Highlights
We've dealt with many interesting assignments over the years, however particular highlights are: the Administrations of the international retail brands, Deschamps, Missoni London and Zilli UK; dealing with a number of travel companies including Diamond Shortbreak Holidays and Isle of Wight Tours; the first debt for equity swap Company Voluntary Arrangement of Orchard Furniture PLC, (a process the Firm pioneered) and more recently winding up Venture Capital Trusts for Downing and Triplepoint.
Certainly, Brexit and the Covid-19 pandemic have presented extremely choppy waters for businesses to navigate, and we see a key part of our role to be working to help businesses to recover from Covid-19, as well as the current issues presented by rising inflation and supply chain problems.
Here's to the Next 25 Years
So now we look forward to the next 25 years. The life of Licensed Insolvency Practitioners is exciting and ever changing, and whatever happens, we will always be here for businesses and individuals for when it isn't business as usual. So, if that's the case with you or a client right now, contact us or call us on any of the numbers below. As always, the initial consultation is free.
Also, K&W Recovery, trading as Antony Batty and Company, Thames Valley: