Antony Batty & Company, Bournemouth – Helping the Community
The Bournemouth office of Antony Batty & Company has donated 25 food parcels to Christchurch Food Bank+ as part of being in business for 25 years.
In mid-May 2022, we celebrated our 25th anniversary as Licensed Insolvency Practitioners. As part of this occasion, we decided to run a programme of community related support initiatives on an office-by-office basis to demonstrate our commitment to helping out in the community.
In this article, Elaine Wilkins, Business Development Manager at our Bournemouth office explains how she worked with the Morrisons supermarket branch in New Milton to prepare 25 food parcels for delivery to the Christchurch Food Bank+, in Dorset, on 3rd October 2022.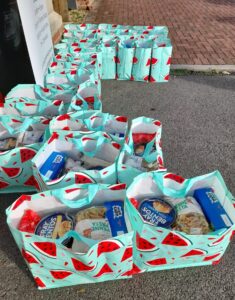 Elaine comments
"Having made the decision to fund and distribute food parcels, the first job was to find a partner who could provide the food and parcel it up. A quick Google search revealed that my local Morrisons had a specialist unit that prepare food parcels and I quickly found that I needed to talk to Sophie Cullen, who is part of the Community Champions team at the New Milton store.
Sophie was wonderful; she and the team had loads of experience in this area and knew exactly what they were doing. We opted for what is known as the 'Family Bag' and all 25 parcels were packed and ready for me to collect and deliver to the Christchurch Food Bank+ on Monday 3rd October. A big thank you to Sophie and all the Community Champions at Morrisons New Milton who were brilliant."
Why Christchurch Foodbank+?
Elaine continues:
"Foodbank+ is supported by Faithworks, a Dorset-based Christian charity. As their website explains:
'We live in challenging times…. and that means finding solutions that enable people to see an end to homelessness, food poverty and loneliness. Above all we want to see a world where every single person is within 15 minutes of a place of welcome that radiates life, friendship, and immediate help – so that no one need battle hard times on their own.'
Faithworks support four Food Bank+ across Dorset (including Christchurch). The café styled centres provide a whole range of support in addition to emergency food. This may include debt advice, budget support and links to other agencies, cooking on a budget and other courses, as well as a chance to connect in a safe space.'
What better place could there be in our local area to donate our food parcels to? Foodbank+ is well established, superbly run and knows exactly how to make sure that the food parcels go exactly where they are needed.
I worked closely with Tracy Blick, the manager of Christchurch Foodbank+, who ensured that everything ran very smoothly. So, a big thank you to her and her team."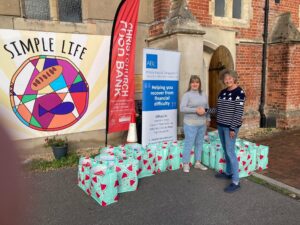 Tracy said:
"This is amazing, at a time when the struggle is so real for families, these 25 hampers will be such a blessing. We are more than just food; through all our projects we work with our visitors on their journey out of crisis. Everyone's journey starts with food. Thank you Antony Batty."
Antony Batty and Company is here to help Businesses facing Financial Difficulty
Right now, many thousands of businesses and individuals are facing significant financial hardships as a result of the aftermath of the Covid-19 pandemic, Brexit-related supply chain problems and the inflation the country is experiencing, especially in gas and electricity prices.
The work that centres like Christchurch Foodbank+ do in helping out people who are suffering as a result is vital.
At Antony Batty & Company, our Insolvency Practitioners, too, are here to help businesses that are in financial trouble. It might be that we can help turn a struggling business around through a Company Voluntary Arrangement or an Administration. If a Liquidation is required, we will ensure it is as orderly and painless as possible.
If your business is struggling, the sooner you contact or Insolvency Practitioners, at any of our offices, the more we can do to help. As always, the initial consultation is free.
Also, K&W Recovery, trading as Antony Batty and Company, Thames Valley: