Antony Batty & Company… Supporting the Salvation Army's Garden Makeover in Bournemouth with the Sheltered Work Opportunities Project
A team from our Bournemouth and Salisbury offices was delighted to help out in delivering a garden makeover for the Winton Salvation Army Church and Community Centre in Bournemouth on Tuesday 22nd August, 2023. We had a great time working with them and also supporting the wonderful team from  'Sheltered Work Opportunities Project' Cherry Tree Nursery (SWOP) as part of our on-going programme of community and environment related support initiatives showing  our commitment to helping out in the community.
"We are always looking for opportunities to help out in the community. This project came up because I have known Maria Tidy, Community liaison officer at Bournemouth based charity 'Sheltered Work Opportunities Project' Cherry Tree Nursery (SWOP) for over 20 years. We have worked together on many charitable projects, so when the opportunity for Antony Batty to work with The Salvation Army in Winton to makeover their garden came up, it made sense to partner with SWOP and get our plants and gardening supplies from their Cherry Tree Nursery.
The team turned up at 9.00am on Tuesday 22nd August for a long, hard day's work that was rewarding for us all and, thankfully, the weather was kind. Take a look at some pictures of the team in action."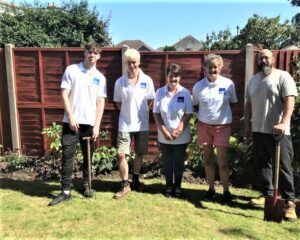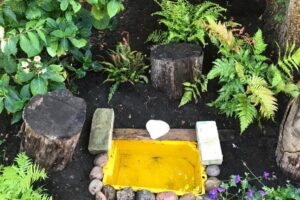 Why The Salvation Army and SWOP?
Elaine takes up the story again:
"Charities, such as SWOP, are seeing a big increase in the number of people with mental health issues requiring help, and they do great work in that area. As a firm we have a strong Mental Health philosophy, with two of our number trained as Mental Health First Aiders.
Likewise, the Salvation Army, whose focus is on transforming lives, also has a significant role in helping Mental Health through the work it does with youth and children, families and older people, so we were delighted to help make a difference to the Mental Health of the local Community in Bournemouth by supporting both Charities and delivering a lovely garden makeover for people to enjoy.
A big thank you to everyone involved, but especially Maria Tidy from SWOP and Tina Shave, the Community Centre Manager at the Winton Salvation Army Church and Community Centre for all their hard work in making this happen."
Antony Batty and Company is here to help Businesses facing Financial Difficulty
Right now, many thousands of businesses and individuals are facing significant financial hardships as a result of the aftermath of the Covid-19 pandemic, supply chain problems and the inflation the country is experiencing, especially in gas and electricity prices.
The work that charities like the Salvation Army and SWOP do to make our communities better is a great example of how we can all help each other to make things a little better.
At Antony Batty & Company, our role is to help businesses that are in financial trouble. It might be that we can help turn a struggling business around through a Company Voluntary Arrangement or an Administration. If a Liquidation is required, we will ensure it is as orderly and painless as possible.
If your business is struggling, the sooner you contact our Insolvency Practitioners, at any of our offices, the more we can do to help. As always, the initial consultation is free.
If your business, or a business that is a client of yours, is facing financial difficulties, please contact our insolvency practitioners or call us at any of our offices:
Also, K&W Recovery, trading as Antony Batty and Company, Thames Valley: