Antony Batty & Company Launch Pan Asian Insolvency Desk
Steve Illes, Partner and Insolvency Practitioner says the Company spotted a gap in the market.
Antony Batty and Company has officially launched its Pan Asian Insolvency Desk, headed up by Partner and Insolvency Practitioner, Steve Illes and based at the Company's Croydon Office. It is a service offered to businesses nationwide. Steve takes up the story, below.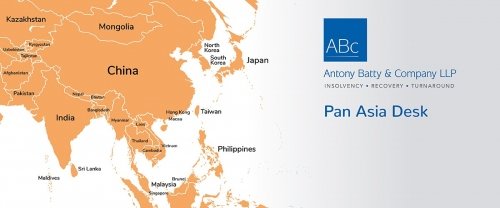 Why launch a Pan Asian Insolvency Desk?
 "In 2020, we started getting enquiries from referrers regarding insolvency work that was needed for UK based subsidiaries of Asian companies, especially Chinese ones. Obviously, the work needs to be carried out under the UK's internationally renowned insolvency regime, but three things really stood out in our favour:
Firstly, we have the necessary language skills. It helps enormously to be able to talk to our Asian based clients in their Mother tongue. In many cases, this is Mandarin or Cantonese, and one of our team, Alex Tsang is fluent in both. Other team members are fluent in Punjabi and Nepalese.
Secondly, we spotted a gap in the market. There is little or no Asia Insolvency Desk representation in IPs outside the top 10.
Third is cost. Most, if not all, off the ten largest Insolvency Practitioners in the UK have Asia Desks, or similar. However, as a smaller 'boutique' player, we can offer 'big firm quality' at reasonable prices."
What is the cause for the demand of a Pan Asian Insolvency Desk?
"Much of the work we have done in this arena is with Members Voluntary Liquidations, or Solvent Liquidations, where, for one reason or another a company has reached the end of its useful life and the owners wish to close it down.
Prior to Brexit, the UK was seen by many Asian companies as the best way into the European Market, and UK based trading subsidiaries were set up for that reason. The Brexit settlement has seen some of these companies decide to close down their UK subsidiaries, and they needed Insolvency Practitioners to do so, especially those with the necessary language skills.
Inevitably, the Covid-19 Pandemic has also played a role, where the required insolvency process is more likely to be a Creditors Voluntary Liquidation."
Recent Experience with UK Subsidiaries of Chinese Companies
GF International Asset Management (UK) Company Limited. "I was appointed liquidator for this company, the UK subsidiary of Guangzhou based GF Fund Management, on 30th September 2020. The parent company was seeking to wind down its UK investment vehicle using an MVL."
China Shipping (UK) Agency Co Limited, and China Shipping (UK) Property Holding Co Limited. These companies are UK subsidiaries of Cosco Shipping Corporation, the largest shipping company in the world. In December 2020 we were appointed liquidators for both, as they were no longer needed due to a merger. Both are solvent liquidations.
Platform Business Media. Our Brentwood office was appointed liquidator for this Creditors Voluntary Liquidation on 2nd March 2021. In this instance, our role was to assist in the translation for the company's Chinese shareholders during the board meetings. Our input included: translating the agenda of board meetings and helping answer their questions on the CVL, how it would proceed and their role as shareholders/investors throughout the process
Contact us for Help and Advice with UK Subsidiaries of Asian Companies
Our knowledge and experience of insolvency, allied to our multiple language capability, means that we are well placed to provide an all-round insolvency service when either a UK operated Chinese business or a subsidiary of a Pan-Asian parent company is looking to receive insolvency and turnaround advice.
Contact Insolvency Practitioner Steve and the team at Pan Asian Insolvency Desk hub in Croydon or call us on 0208 088 1899 for help and advice.
WeChat: Alternatively, Steve Illes can be contacted on WeChat. His WeChat ID is: StevenIlles.