Antony Batty & Company, Bournemouth – working with the YMCA
The Bournemouth office of Antony Batty & Company has donated 25 homeless packages to the YMCA as part of being in business for 25 years.
In mid-May 2022, we celebrated our 25th anniversary as Licensed Insolvency Practitioners. As part of this occasion, we decided to run a programme of community related support initiatives on an office-by-office basis to demonstrate our commitment to helping out in the community.
Our most recent initiative took place on December 19th, 2022, when Hugh Jesseman and Elaine Wilkins from Antony Batty Bournemouth office were delighted to present YMCA Bournemouth with 25 Homeless Packages to help them with their work.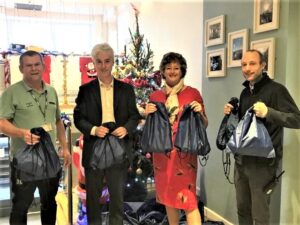 The Work of YMCA Bournemouth
As they say on their website, the YMCA is:
"…..inspired by Christian values to work across areas such as Accommodation & Support, Family Work, Health & Wellbeing, Training & Education and Support & Advice with the aim of transforming communities so that everyone can belong, contribute and thrive."
A key element of their work is to provide short-term supported housing support for homeless men and women aged 18-65 based on their belief that everyone should have a safe place to stay.
Their strategy to combat local homelessness is "to provide people with individually based support solutions that aim to keep them safe from homelessness over the long-term. Providing a safe place to stay is just the beginning: it is personal support and guidance that we believe really changes lives."
Peter and Paul from YMCA Bournemouth said about our donation:
"Thank you to the team at Antony Batty for their on-going support. It helps us continue our vital work and is especially welcome at this time of year."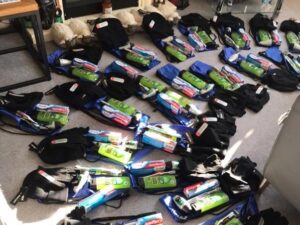 Elaine Wilkins said:
"YMCA Bournemouth does a fantastic job supporting the homeless and equipping them with the skills they need to move on to independent living. The fact that in 2019 they kept 174 people safe from homelessness tells both of the great work they do and also the scale of the problem.
As a business which helps individuals and distressed businesses at times of financial hardship, we want to give back when we can to our local community. It is always good to show some compassion for those who may be finding life a challenge at the moment. We have great respect for the excellent work YMCA Bournemouth does."
Antony Batty and Company specialises in turnaround, restructuring and insolvency for businesses, charities and individuals experiencing financial difficulty. Our aim is to help to find practical, common-sense solutions to these financial difficulties. We also help solvent businesses close-down in a tax efficient way.
For help and advice, contact us or call us at Antony Batty Bournemouth 01202 923009 for a FREE initial chat, or at any of our other offices:
Also, K&W Recovery, trading as Antony Batty and Company, Thames Valley: